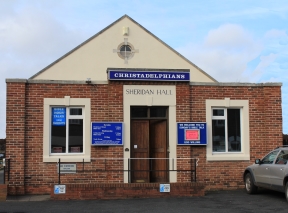 Christadelphians
Christadelphians are a group of people united by their belief in the Bible and their aim to follow its teaching.
You can find out more about what we believe.
Our faith is important to us and we believe we have a responsibility to share it with others. That is the main purpose of this web site.
---
God's Solution to a World in Turmoil
Many people are understandably concerned about the present turmoil in the world. We have planned a special event to present God's solution described in the Bible.
See the news here.
---
So Many Wars, Disasters and Earthquakes - Why?
Our latest Bible Hour video is very topical, in light of the tragic natural disasters that have taken place in the last few weeks in the Caribbean, in the southern USA and in Mexico. How can we understand such things when we believe in a loving God who wants the best for His creation?
See the video.
---
New video search facility
We just implemented a new facility that allows you to search for Bible Hour Videos. It's available from the main Video Gallery page or directly on the Video Search page.